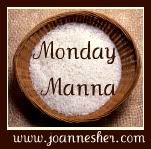 I am hosting
Monday Manna
today, where we meet to together to study a portion of God's Word. You may link to your blog with thoughts on this verse (with the Linky at the bottom of this page), or you may add a comment.
"Casting all your care upon Him,
for He careth for you."
(I Peter 5:7)
When you were a child, did you care if there was enough food for supper? Did you care if there was enough money to pay the light bill? Did you care or worry if you'd be warm enough through the winter?
Of course not!
You didn't even think about it. If you did, you knew that your parents would take care of everything. They would feed you and clothe you and give you a place to sleep.
Why is it, as grown-ups, we begin to worry about things? Our Heavenly Father cares for us much more than our earthly fathers do. He is all-powerful. He can provide for us in ways no one else can.
You say, but sometimes, bad things happen--things that are scary, things that hurt, and things that make me sad. Does God do bad things?
Think again of being a child. Did your parents ever make you eat vegetables that you didn't like? Did they insist that you go somewhere that was new and scary? Did they take you to the doctor to get a shot that hurt?
Does that mean that your parents were bad?
Of course not!
They loved you, and let you experience those things for your benefit, so you would be a stronger person.
If we remember that God loves us and cares for us, then we can trust that whatever He allows into our lives is for our benefit. All that God does is good for us. We only need to give Him our worries and rest in His care.
"Help me, Lord, in every tribulation,
So to trust Thy promises, O Lord;
That I lose not faith's consolation
Offered me within Thy holy Word.
Help me, Lord, when toil and trouble meeting
E're to take as from a father's hand.
One by one, the days, the moments fleeting,
Till I reach the promised land."
"Day by Day" by Lina Sandell Berg