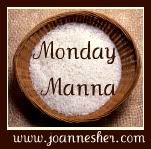 I am hosting
Monday Manna
today, where we meet to together to study a portion of God's Word. You may link to your blog with thoughts on this verse (with the Linky at the bottom of this page), or you may add a comment.
"The meek will He guide in judgment,
and the meek will He teach His way."
(Psalm 25:9)

Have you ever been to a rodeo?
When a cowboy gets on one of those broncos, that wild horse kicks and jumps and bucks until he knocks that rider off.

I don't know a lot about horses, but I do know that if a horse is to be at all useful, it must first be tamed. The horse must learn to submit to a bit and saddle. It must allow a rider to control the reins. A well-trained horse will obey the slightest nudge or word from his master.

A stubborn horse is no good to the cowboy. If he insists on resisting his rider and wanting to go his own way, he will not be trusted to do the job. He must become meek - able to be taught.

God wants me to have a teachable heart.

When I think I can do things on my own,
when I buck and kick against God's control,
when ignore the leading of His reins,
then I become useless.

He cannot trust me to do the job.

Lord, teach me to submit to Your ways. I want to be guided by Your Spirit. I want to hear Your slightest command or touch. I want You to trust me and use me. Amen.
~ ~ ~
Keep the GRATEFULS coming.
See how many we have now!