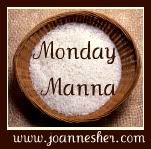 I am hosting
Monday Manna
today, where we meet to together to study a portion of God's Word. You may link to your blog with thoughts on this verse (with the Linky at the bottom of this page), or you may add a comment.
"Thou hast enlarged my steps under me,
that my feet did not slip." (Psalm 18:36)

Have you ever walked on a log that was suspended above a stream or on a narrow board high above the ground? The higher you are the narrower the board seems to be. Your head gets dizzy. You shuffle one inch at a time. You begin to flair your arms about and finally lose your balance.
If that same board was put on the ground, you could probably walk easily across it. You might even be able to run without any trouble.
Why?

It's a matter of the mind.

When you look at the danger, you lose your confidence and your balance. When the danger is eliminated, then so is the fear.
It reminds me of when Peter walked on the water. When he looked at the storm, he sank into waves, but when he looked at Jesus, all fear was gone.
"Thou hast enlarged my steps under me."

When we trust in God, knowing He will take care of the dangers, then it is as if He has widened the board beneath our feet. No longer is it a narrow beam, it is a wide plain where our feet are sure as we run with confidence.