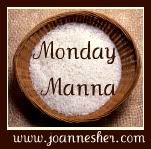 Today's Monday Manna
is hosted by Joanne Sher
at
An Open Book
.
We are focusing on this verse -
"For whatsoever is born of God
overcometh the world:
and this is the victory
that overcometh the world,
even our faith."
(I John 5:4)
The Bible tells us that this world is controlled by Satan. There is a spiritual battle that we are part of, even though we can't see it. If we belong to Christ, we are soldiers in the battle.
"For we wrestle not against flesh and blood,
but against principalities, against powers,
against the rulers of the darkness of this world,
against spiritual wickedness in high places."
(Ephesians 6:12)
In our lives there are many little battles for our mind and our devotion and our time. Satan tries to lure us away from putting the Lord first in our lives. If we don't arm ourselves with His armor, we will be vulnerable to the enemy.
(Ephesians 6:8-18)
Sometimes we fail. Sometimes, the enemy wins a battle because we try to fight in our own strength. We don't have to have to be losers. Christ is our captain! When we let Him battle for us, we can be conquerors.
We can have the victory!

Do you have anything to be grateful about today?