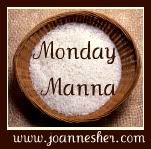 I am hosting
Monday Manna
today, where we meet to together to study a portion of God's Word. You may link to your blog with thoughts on this verse (with the Linky at the bottom of this page), or you may add a comment.
(Isaiah 57:15)
"For thus saith the high and lofty One
that inhabiteth eternity, whose name is Holy;
I dwell in the high and holy place,
with him also that is of a contrite and humble spirit,
to revive the spirit of the humble,
and to revive the heart of the contrite ones."
"Where is God? "
If you asked this question to people,
you would get different answers -
"in outer space somewhere"
"in Heaven"
"everywhere"
"in my heart"
...and all these would be right,
for God is omnipresent.
Yes, God is everywhere, but He inhabits
(lives, dwells, is comfortable) in only two places -
1.
"a holy place"
"Holy" means to be separate or set apart. God is different and greater than we can even comprehend. He is outside of time and space. He is holy and lives in a holy place.
2.
"a humble and contrite"
heart
This God, the high and holy God, cares enough to dwell in the heart of those who realize they are unworthy, of those who realize their sin, of those who are willing to yield their lives to Him.
How can this be?
"That He should leave His home on high
And come for sinful man to die,
You count it strange, so once did I,
Before I knew my Savior."
"I Am Not Skilled to Understand" hymn by Dora Greenwell