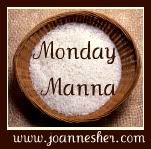 Today's Monday Manna is hosted by Joanne Sher at
An Open Book
. We are focusing on this verse -
"And when they had prayed,
the place was shaken
where they were assembled together;
and they were all filled with the Holy Ghost,
and they spake the word of God
with boldness." (Acts 4:31)
What a wonderful gift the Lord gave to us
after He returned to Heaven!
I believe that the moment a person repents and accepts God's gift of salvation, he also receives the gift of God's Spirit. It will never leave. It is God's promise (down payment) of eternal life with Him. We may sin and grieve Him, but we belong to Him forever.
I've known this from the time I was a little girl. I sang songs like "Since Jesus Came Into My Heart" and "Christ Liveth in Me." But it wasn't until I was around 30 years old that it became real to me.
God's Spirit lives in me!

The Almighty God dwells in me. He warns me and guides me and comforts me and teaches me. He gives me boldness to speak of Him. Oh what a wonder that God is in my heart!
"filled with the Holy Ghost"

What does it mean?
Can I get more of His Spirit?
How can I be filled?

God gift is full and abundant. He doesn't withhold it from us. Our own sinful lives keep us from being filled with the Spirit.
Think of your life as a water hose and the Spirit as water flowing through it. When we make other things more important than God, they clog the hose. The water is there, but it is hindered and barely trickles through. It isn't very useful. As we acknowledge our sins, God removes them and His Spirit flows through us. He is able to use us to minister to others around us.
"Channels only, blessed Master,
But with all Thy wondrous power,
Flowing through us, Thou canst use us
Every day and every hour."
"Channels Only"
Lord, show me the sins that block Your Spirit flowing through me. I want to be filled with You. May others see only You. Use my life today. Amen