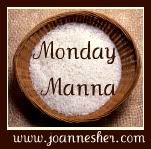 Joanne Sher is hosting
Monday Manna
today. Stop by and read other thoughts on God's Word.
When I was a little girl (and acting stubborn, as children often do), my father would say, "Yvonne, look at me." I would lift my eyes to meet my father's eyes, and I would see love in his face. Yes, he was firm and insisted that I obey him, but I knew that he loved me. My father only had to say,
"Look at me."
In today's verse - (Psalm 27:8 NKJV)
"When You said, 'Seek My face,'
my heart said to You,
'Your face, LORD, I will seek.'"
It's much the same way with my Heavenly Father. When I am being selfish and stubborn and spiritually grumpy, I can hear my Lord saying, "Look at Me." When I turn away from my sinful ways and look at Him, my guilty heart melts and repents because I can see that He is displeased with me, but I can see love in His face. When I am discouraged, when I am sad, He says to me,

"Yvonne, look at Me."
This verse reminds me of a hymn -
"O soul, are you weary and troubled?
No light in the darkness you see?
There's light for a look at the Savior,
And life more abundant and free.

(chorus)
Turn you eyes upon Jesus,
Look full in His wonderful face;
And the thing of earth will grow strangely dim,
In the light of His glory and grace. "
Have you heard your Father saying, "Look at me" ?
("Turn Your Eyes Upon Jesus"
words by H. H. Lemmel)