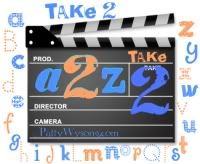 My good friend Patty is at it again!
We're off on another series of blogs through the alphabet.
I like these because, although we are limited by a letter,
I can be funny, serious, or informative... Today, I'm sick.
I've been sneezing and coughing for the last couple days. Sneezes are funny. Just ask any baby. They're funny in any language or any age, but especially from animals or children... and even old folks, too. I usually don't like to sneeze because sometimes one sneeze triggers another, and I can't stop. That can be embarrassing sometimes.
A...A...ACHOO!
Did I hear a "God bless you" ?
Thank you!
Do you know where that phrase came from?
Mostly, the response to the sneeze came from the superstition that a sneeze causes the soul to escape the body through the nose. Saying "bless you" (or something similar) would stop the devil from claiming the person's freed soul. Others believed the opposite: that evil spirits use the sneeze as an opportunity to enter a person's body. Some believed that the heart momentarily stops during a sneeze (it doesn't), and that saying "bless you" was a way of welcoming the person back to life.
I'm not superstitious at all, but I do want God to bless me and those around me with good health...
so I will say -
Gesundheit! (Germany)
Salute! (Italy)
A te sante! (France)
Salud! (Spain)
Dia linn! (Ireland)
"May you live 100 years!" (China)
"May your dreams come true!" (Australia)
(the panda sneeze, by request)