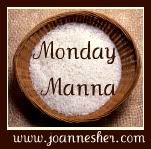 Today's Monday Manna

is hosted by Joanne Sher

at

An Open Book

.

We are focusing on this verse -



"For as the earth bringeth forth her bud,
and as the garden causeth the things
that are sown in it to spring forth;
so the LORD GOD will cause righteousness and praise
to spring forth before all the nations."
Isaiah 61:11



When I moved from the
Bahamas
as a child, I couldn't understand why the other children drew pictures of the trees like naked sticks. I thought the barren, winter trees looked ugly and dead. I stubbornly drew tropical palm trees in my pictures.
Even after living in New York and Maine through my teen years, I still preferred evergreens to the spindly deciduous trees. It wasn't until my husband taught me to tell which ones were still alive (sleeping and waiting for spring) that I learned to appreciate the shape of their trunks and branches.
When the leaves begin to appear on the trees, it's a joyous time of celebration. The long wait is over! Life has come back to the earth. The birds sing; flowers bloom; even the gurgling streams are happy. The tiny peeper frogs fill the night air with their praises. The earth is full of His joy.
Our world is approaching the dark wintertime. There will come a time when the light of the Holy Spirit will be taken away. It will be a cold and dark time, a time of wickedness and death.



But it will not last forever...



God has also promised a blessed and fruitful time. He will return to earth as King. The long wait is over! The earth will be filled with "righteousness and praise." The whole earth will celebrate the return of life and joy.


There will be peace on earth.


(www.wallacepathwaysart.com)