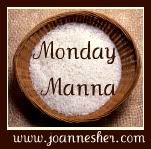 I am hosting
Monday Manna
today, where we meet to together to study a portion of God's Word. You may link to your blog with thoughts on this verse (with the Linky at the bottom of this page), or you may add a comment.
"Great peace have they
which love Thy law,
and nothing shall offend them."
(Psalm 119:165)
CANCER
EARTHQUAKE
UNEMPLOYMENT
TERRORISM
What do you fear? This world is full of horrible and frightening things. Unless I hid in a closet with my fuzzy blanket and teddy bear, I'm going to encounter some sort of crisis eventually.
"What if we can't pay our bills? What if my son is sent to into battle? What if ..." I could easily get into a panic. I could send my blood pressure through the roof. I could worry and fret and waste my life away imagining the "what if's" about tomorrow,
or
I can have peace.
Our verse says "Great peace have they which love Thy law." God says, "Do not fear," and "I will never leave thee nor forsake thee."
So when tragedy strikes close to home or even myself, I can have a peace that God knows all about it. He has allowed it into my life for reason, even though I may not understand. Life's path can be rocky and slippery, but it shouldn't "offend" me or cause me to stumble in my walk with the Lord because He is holding my hand.
Lord, help me not to look at the frightening things around me, but feel Your hand holding mine as I walk through them. May I have peace that all will be well because You are with me. Amen