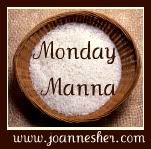 I am hosting
Monday Manna
today, where we meet to together to study a portion of God's Word. You may link to your blog with thoughts on this verse (with the Linky at the bottom of this page), or you may add a comment.
"But He giveth more grace;
but giveth grace to the humble."
My middle name is Grace. I was named after my grandmother. My husband's grandmother's name was also Grace. I kept the name in the family and gave it to my oldest daughter. The baby books say that Grace means "elegance, gracefulness, favor from God."
In Sunday School, I learned the acronym -
God's Riches At Christ's Expense
I grew up knowing that salvation was through grace -
an undeserved gift of God.

Yes, grace is all these, but it's more.
How do these definitions fit a verse like
"My grace is sufficient for thee." (II Corinthians 12:9 KJV)
Recently, I had grace explained as "divine enablement." That helped me to understand things much better. It isn't just a gift; it's an empowerment from God himself.
God will give us the power, the knowledge, the strength, the wisdom, the circumstances...anything that is needed... to accomplish His will.
Imagine this -
Your boss wants you to develop a new program in your company. It's a HUGE project. You feel honored and challenged. You might feel overwhelmed, but just think of the prestige of having your name on it! So you roll up your sleeves and plunge into it...but it nothing seems to be working the way it should and the whole thing falls into a crumbling mess.
You turn to your boss for help. He says, "If you had only come to me sooner, I have everything you needed to make it work. I have the plans, the funds, the materials. I will train you and give you advisers and personel to help you. Why didn't you come to me earlier?"
"He resisteth the proud..."
When we are trying to accomplish things in our own prideful strength, we often find it difficult and frustrating. We wonder why God isn't blessing our efforts.
"He giveth grace to the humble."
To be humble is to yield to God's will, not to think of ourselves but let God work through us. He will enable us to do whatever He has given us to do.

(Video of song "He Giveth More Grace")
Whatever God wants us to do, He will provide whatever we need to accomplish it. He will give us grace.