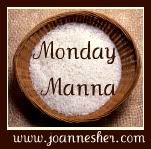 Today's Monday Manna
is hosted by Joanne Sher
at
An Open Book
.
We are focusing on this verse -
"Therefore be
imitators of God
as dear children."
(Eph. 5:1 NKJV)
Children imitate their parents - whether they learn our good traits and our bad traits. It's very humbling to have a young child repeat your angry words or put their feet on the table. You're pleased if you catch them holding the door open for someone or making their bed.
Little boys try to walk and talk like their daddy, and little girls dress up in mommy's shoes. As they grow, we see characteristics that they don't even realize they have acquired. You can tell what family they come from by how they act.
With God as our Heavenly Father, we should want to be like Him. People should see His characteristics in us. They should know we are part of the family of God by the way we act.