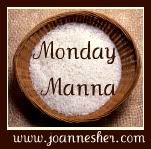 I am hosting
Monday Manna
today, where we meet to together to study a portion of God's Word. You may link to your blog with thoughts on this verse (with the Linky at the bottom of this page), or you may add a comment.
"Come, behold the works of the Lord;
what desolations He hath made in the earth."
(Psalm 46:8)
This last week, the whole country has watched and followed the path of Hurricane Irene. It swept across the islands of the Bahamas, Puerto Rico, and Bermuda. It twirled up the East Coast, leaving uprooted trees, damaged buildings, and flooded roadways in it's wake. Millions lost their electrical power. Some lost their lives. I pray for the families who are suffering. I pray that they will turn to God for comfort and strength.
Natural disasters (earthquakes, hurricanes, floods, etc.) fill me with awe, for they are God-made. I am not foolish enough to deliberately stand outside in their fury, but I do not panic and fear. I know that my God, the one who knows each sparrow, is in control. The winds and the waves obey His will.
I heard a story of a man whose cabin shook in an earthquake. He ran outside, leaping about and shouting to the sky,"Do it again, God! Do it again!"
Because of sin, we all deserve God's anger and destruction. God is holy and just, but He is also full of mercy and forgiveness. Those that belong to Him, those that have accepted His Son Jesus and His gift of eternal life, are safe in His almighty hands. Nothing can touch them, unless He allows it. They can have perfect peace knowing all things happen for His eternal purpose.
The Israelites trembled and cried when they saw God's great power on Mount Sinai, and we should tremble in reverent fear,also. God made us, and He has the right to destroy us. He made the hurricanes and tornadoes. He can do whatever He wills. Yet, He loves His own and protects them. Do you belong to this awesome God? Do you feel safe in His everlasting arms?
"What have I to dread, what have I to fear,
Leaning on the everlasting arms?
I have blessed peace with my Lord so near,
Leaning on the everlasting arms."
(words by Elisha A. Hoffman)