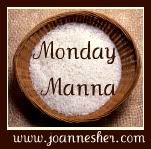 Today's Monday Manna
is hosted by Joanne Sher
at
An Open Book
.
We are focusing on this verse -
Galatians 2:21
"I do not frustrate the grace of God:
(invalidate, set aside, nullify - AMP. BIBLE)
for if righteousness come by the law,
then Christ is dead in vain."
What if you spent a lot of time planning a special day for a spouse? You worked to save money - often going without things - to buy some tickets for his favorite singer and reservations for his favorite restaurant. You wanted it to be just right.
But...he said, "I don't want your gift.
I'd rather plan it myself.
I don't want you to spend money on me."

Wouldn't it really hurt your feelings?
All that effort and sacrifice would be in vain.

Grace is God's gift to me -the perfect gift.

When I try to earn forgiveness through keeping the law,
(rules and regulations, do's and don'ts)
I am saying, "No thank you, God.
You didn't have to die for me.
I can pay for my sins by myself."
Even after I have accepted His salvation,
I sometimes act as if I have to keep working at it.
I am being selfish and stubborn and arrogant.
Why can't I rest in His love?
He has forgiven me and I am His child.
My old life is gone. It died when He died.
Now I live a new life because He lives in me.
"I am crucified with Christ: nevertheless I live;
yet not I, but Christ liveth in me:
and the life which I now live in the flesh
I live by the faith of the Son of God,
who loved me, and gave himself for me."
(Galatians 2:20)