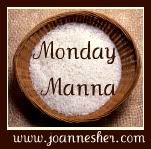 I am hosting
Monday Manna
today, where we meet to together to study a portion of God's Word. You may link to your blog with thoughts on this verse (with the Linky at the bottom of this page), or you may add a comment.
"All nations before him are as nothing;
and they are counted to him less than nothing,
and vanity." (Isaiah 40:17)

I don't like studying history - all those dates and kings and countries! I like maps, but it gets so confusing when the boundaries and names of empires change so often. It seems like each age is just trying to be "the grandest tiger in the jungle."
As we enter another election season, I sigh at the thought of candidates trying to show that they are worthy to be the leader of our country. No one is worthy of power in his own strength. God is the one who lifts a leader into places of authority and brings them down to nothing.
The Bible says that God laughs at man's feeble attempts to be great. The greatest leader, whether it be emperor, conqueror, king, dictator, or president, is but a speck of dust in the eyes of God.
Someday, Jesus Christ will reign as King over the whole world. He will be the greatest leader of all times. Every knee will bow to Him.