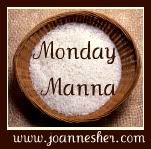 Today's Monday Manna
is hosted by Joanne Sher
at
An Open Book
.
We are focusing on this verse -
"And the Spirit of the LORD will come upon thee,
and thou shalt prophesy with them,
and shalt be turned into another man."
(I Samuel 10:6, KJV)
Sometimes when a person is in danger, they are given a new identity. Their name is changed. Their job is changed. Even their appearance is changed.
Did you ever wish you could start all over?
Do you wish you could just leave
your old life behind and begin again?
That's exactly what happens when you surrender to God's redemption. He declares your old sinful man to be dead, He washes away your sinful stains, and He sends your sinful past "as far as the east is from the west" and forgets it.
Then God gives you His own Spirit to live within you. He gives you new life and power to live a clean and holy life. He makes you a new creation!
Sadly, we choose to go back to our old habits and ways. We don't claim the power given to us to live a righteous life. We haven't lost it; it's still there, but we have ignored it and tucked it into a forgotten corner.
Thankfully, God is merciful and faithful and will forgive us. He wants to give us an abundant and joyful life.
Have seen His Spirit working in your life?
Have you claimed His power over sin?
Lord, may we see our sins as You see them - gone, washed away by the blood of the Lamb. May we live through the power of Your Spirit, a full and holy life. In Jesus' Name, Amen