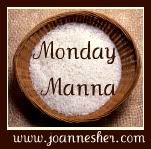 Today's Monday Manna is hosted by Joanne Sher
at
An Open Book
.
We are focusing on this verse -
"Thou wilt shew me the path of life:
in Thy presence is fulness of joy;
at Thy right hand there are pleasures
for evermore."
(Psalm 16:11)

Our forefathers penned one of the strongest documents ever written,
The Declaration of Independence.
The first line says,
"We hold these truths to be self-evident,
that all men are created equal,
that they are endowed by their Creator
with certain unalienable Rights,
that among these are
Life, Liberty and the pursuit of Happiness."

Many have fought and died so that we can have these "unalienable rights," but are we content with them? Owning a cell phone and a car and a high-paying job and a house are all nice, but would we be happy with the simplest rights? Are we satisfied just to be able to breathe and eat, to be able to dream and worship without fear?
Look at our Bible verse again. God is offering us "life" and "joy" and "pleasures." Do they come from working 6 days/week? Do they come from buying things on credit and greedily hoarding things around us? Does pursuing fame and worldly success bring us satisfying happiness?
No....

"Life" and "joy" and "pleasure" are gifts from our Heavenly Father. He shows us the way to live a full life. He walks with us, filling our hearts with joy. He showers us with blessings - not just once or for a little while, but forever and ever and ever.