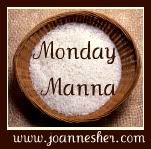 Today's Monday Manna is hosted by Joanne Sher at
An Open Book
. We are focusing on this verse -
"These things I have spoken unto you,
that in me ye might have peace.
In the world ye shall have tribulation:
but be of good cheer;
I have overcome the world."
(John 16:33)
I find it interesting that this verse falls on the day that we hear of the death of the top terrorist in the world. The world is celebrating justice and hopes for peace.

I am proud of our troops for their continued effort in their duty to protect our country - separated from their families, living in harsh conditions, putting their own lives in danger.

Personally, I have mixed emotions. We should not be glad that anyone is sent to eternal damnation, but I know that God is just. God is also a God of mercy. He is did not allow Bin Ladan to be captured immediately. God gives every man a chance to repent, but He will not let sin go unpunished.

Will we now see peace and freedom from terrorist?
No, because evil still reigns in this world.

Am I frightened? Do I stress and worry over it?
No, because God is my Father. Nothing will happen that He does not allow. He is more powerful than the ultimate ruler of evil. Eventually, Satan and his forces will be brought to justice.

Jesus will reign as King!

"Wherefore God also hath highly exalted him,
and given him a name which is above every name:
that at the name of Jesus every knee should bow,
of things in heaven, and things in earth,
and things under the earth;
and that every tongue should confess
that Jesus Christ is Lord,
to the glory of God the Father."
(Philippians 2:9-11)