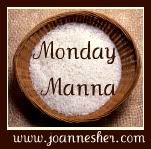 I am hosting
Monday Manna
today, where we meet to together to study a portion of God's Word. You may link to your blog with thoughts on this verse (with the Linky at the bottom of this page), or you may add a comment.
"Be ye therefore perfect,
even as your Father
which is in heaven
is perfect."
(Matthew 5:48)

When I was a young mother, I was having trouble dealing with a certain problem. An older woman asked me, "Are you trying to be perfect?"
"Of course not!"
People who thought they were perfect were arrogant and conceited, right? It made me think of Mary Poppins saying that she was "practically perfect in every way." I didn't want to be thought of like that.
But that question "Are you trying to be perfect?" pestered me. My mind asked, "What about the verse that says we should be perfect as God is perfect?" I had to study this out. The Amplified Bible explains it like this -
"You, therefore, must be perfect
[growing into complete
maturity of godliness in mind and character,
having reached the proper height
of virtue and integrity],
as your heavenly Father is perfect."

Looking at it like that, then "Yes! I want to be perfect! I want to be complete and mature. I want to be growing more like Jesus."
I thought of my students. The kindergartener certainly couldn't do the same work as an eighth grader. He wasn't expected to, but he could do his best. He could earn a gold star for having a perfect paper.
In my flesh, I will never be like Jesus. I am not expected to, but I can do my best that I know how. I can strive to be perfect to my ability. I hope He looks at my life and says, "Well done" and gives me a gold star.
Lord, forgive my failings and teach me how to live for You. I want to be like You. I want to mature and grow and be the best that I can for You. Amen