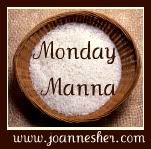 I am hosting
Monday Manna
today, where we meet to together to study a portion of God's Word. You may link to your blog with thoughts on this verse (with the Linky at the bottom of this page), or you may add a comment.
Buried with Him in baptism,
wherein also ye are risen with Him
through the faith of the operation of God,
who hath raised Him from the dead.
(Colossians 2:12)
I don't deserve to be let into Heaven.
All that I am or try to be is nothing but filth.
When gave my life to God,
Jesus did a wondrous thing.
He exchanged my sin for His righteousness.
God does not see me anymore.
I have been baptized
(Greek-
baptízein
, immersed)
into the life of His Son.
Christ is in me, and I am in Him.
When Jesus died,
my old self died with all its sin.
When He rose,
I became a new creation.
Because Jesus lives, I have eternal life!
I boldly come before the throne of God
on the merit of His Son.
He paid the price of my sin.
I am cloaked in the blood of the Lamb.
"When He shall come with trumpet sound,
O may I then in Him be found.
Dressed in His righteousness alone,
Faultless to stand before the throne."
(
"The Solid Rock"
by Edward Mote)
Here is a short allegory I wrote about being accepted because we are "dressed in His righteousness.
(The Undeserved Shirt)