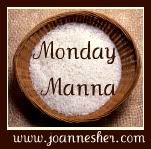 I am hosting
Monday Manna
today, where we meet to together to study a portion of God's Word. You may link to your blog with thoughts on this verse (with the Linky at the bottom of this page), or you may add a comment.
Hebrews 10:17 (KJV)
"And their sins and iniquities
will I remember no more."
Did something like this ever happen to you?
A friend doesn't invite you to an evening of watching movies and games. Maybe it was a miscommunication, maybe she thought you were busy, maybe... Whatever the reason, you were hurt - very hurt. She said she was sorry, and you forgave her, but you never forgot. It hurt too much. Things were never quite the same after that.
I understand this feeling too well. The scenerio might have been different, but my feelings have been hurt in the same way. It doesn't take but a word to bring all the ugly bitter thoughts flooding back. I can't forget them!
Sometimes, I bring up that "forgiven" situation to make the other person feel guilty. I won't let them forget it either.
Maybe I like to beat myself down by remembering how sinful I've been. I say that I am unworthy of anything good because I've done so many horrible things. I've confessed them to the Lord, but I can't forget them.
But... I have forgotten a wonderful truth.
GOD HAS FORGIVEN MY SINS!
When He forgave my sins, He also forgot them. They are completely gone!
I am JUSTIFIED. (just as if I'd never sinned)
I hope that when we get our new bodies in heaven, that we will forget all our sins, too.