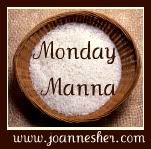 Today's Monday Manna is hosted by Joanne Sher at
An Open Book
. We are focusing on this verse -
Isaiah 53:10
"Yet it pleased the LORD to bruise Him; He hath put Him to grief; when thou shalt make His soul an offering for sin, He shall see his seed, He shall prolong his days, and the pleasure of the LORD shall prosper in his hand."
This is a hard verse to think about. We want to think of God as a loving God- Someone who is always good and kind. We forget that He is also holy and just. God hates sin. It must be punished. If God dealt with our sin as we deserved, all mankind would be destroyed.
But, God
is
love.
He is also merciful and kind. The only way to bring mercy and justice together was for His Son, sinless and holy, to take our punishment for us. Jesus took our sins upon Himself. He endured the worst punishment of all - the rejection of God the Father, yet, He was willing to die that we may live.
When Jesus died and rose again,
He conquered sin!
He made a way for us to live in heaven with God forever.
God knew all this.
It pleased God to "bruise Him"
so that we may be made free.
"Greater love hath no man than this,
that a many lay down his life for his friends."
(John 15:13 KJV)