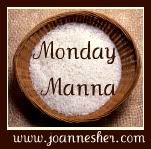 I will be hosting
Monday Manna
this next week. Take the time to find this verse in your Bible. Read the other verses before and after it to get the context, then next Monday, write what the Lord has taught you about Himself. Post it on your blog, and link it to mine, or just write your thoughts in the comment section, so we all can learn from it together.
(Hebrews 10:17, KJV)
"And their sins and iniquities
will I remember no more."