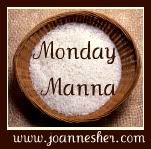 The purpose of Monday Manna to get together and get to know Christ more through His Word. Each
THURSDAY
, a Bible verse to ponder will be posted, either at
An Open Book
or here at
My Back Door
.
(I will also display the verses on my sidebar.)
This week, I am hosting Monday Manna.
If you wish to participate, post what you have learned through this verse on your blog or website and add your url to the link at the bottom of this post. Be sure to visit the other ones to see what they have learned about God's Word.
The verse I chose is -
Romans 12:10
"Be kindly affectioned one to another;
in honor preferring one another."
Have you ever heard this song?
"Jesus and others and you,
What a wonderful way to spell joy;
Jesus and others and you,
In the life of each girl and each boy;
J is for Jesus, for He has first place,
O is for others we meet face to face;
Y is for you and in all that you do,
Put yourself last and spell joy."
As a mother and school teacher, I saw many childish battles to be first. The kids wanted to be first to sit in the front seat, the first one done eating their food, the first one in line at recess time. Children want the biggest cookie, the best presents, the newest toys.
Adults haven't grown up very much. They want the parking space closest to the door, the best seats in the theater, the office with the biggest desk or windows. They want their kids to have brand-name clothes, the top role in the play, or invitations to every party.
Our society is all about
ME, ME ME!
I'm the most important person.
My children deserve the best.
I have my rights,
and no one is going to take them from me.
We don't deserve anything. Everything we have is because of God's mercy and grace. Our attitude should reflect this love to others.God's love doesn't look at self. It looks at others. We should be content with whatever God gives us, and be happy for others when they are blessed.
This love doesn't come naturally. It is foreign to the natural man. This love only comes from the Lord - the fruit of His Spirit within us. True love is sacrificial. It puts the needs and desires of others before our own.
Lord, help me to think of others before I think of myself. I want to show Your love to others.
I want true JOY.
In Jesus' Name, Amen