I have joined Joanne Sher at
An Open Book
in hosting Monday Manna on alternating weeks. (She will be hosting it this coming Monday.)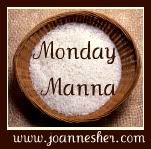 The purpose of Monday Manna to get together and get to know Christ more through His Word. Each
THURSDAY
, a Bible verse to ponder will be posted, either at
An Open Book
or here at
My Back Door
. (I will also display the verses on my sidebar.)
The following Monday, those participating will post their thoughts on the verse at their own blogs and link up using the Linky Tools gadget.
The main purpose is learn from one another, as we ponder the same Scripture.
And this week's verse is:
~ ~ ~
Matthew 13:58 (KJV) "And he did not many mighty works there because of their unbelief."


~ ~ ~
I am looking foward to seeing what God teaches each of us.