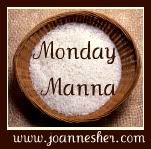 The purpose of Monday Manna to get together and get to know Christ more through His Word. Each
THURSDAY
, a Bible verse to ponder will be posted, either at
An Open Book
or here at
My Back Door
.
(I will also display the verses on my sidebar.)
This week, I am hosting Monday Manna.
The verse I chose is
~ ~ ~ ~ ~
Deut. 30:14 (KJV)
"But the word is
very nigh unto thee,
in thy mouth
and in thy heart,
that thou mayest
do it."
~ ~ ~ ~ ~
If you look at the rest of the chapter, you will see that God was showing the Israelites that they had no excuse in knowing what He wanted them to do. He had given them all the instructions they needed to worship Him,
to please Him,
to obey Him.
I realize that we are not Israel. We are not under the law and required to follow the letter of the law. But we have no excuse either. We have even more access to knowing God's will than they did. We have His Spirit within us - guiding us, teaching us what is right and good.
John 16:13
"Howbeit when he, the Spirit of truth, is come, He will guide you into all truth: for He shall not speak of himself; but whatsoever He shall hear, that shall He speak: and He will shew you things to come."
We also have God's Word, the Bible. God will guide us and teach us through His Word. We can trust the Lord to speak to our hearts through it. Yes, there are commentaries and many other study books, but we need to remember that they are only helps - man's thoughts and words. God's Spirit can answer our questions and guide our lives through the reading of the Scriptures.
God may only show us how to live one moment at a time, but we have no excuse.
We can know God's will.
Micah 6:8
"He hath shewed thee, O man, what is good; and what doth the LORD require of thee, but to do justly, and to love mercy, and to walk humbly with thy God?"
Are you reading God's Word?
Are you hiding it in your heart?
If you wish to join us on Monday Manna, post a devotional on Deut. 30:21 on your blog or website, and add your name to LINKY list below. Check out the other entries and leave a comment.
Powered by Linky Tools
Click here to enter your link and view this Linky Tools list...